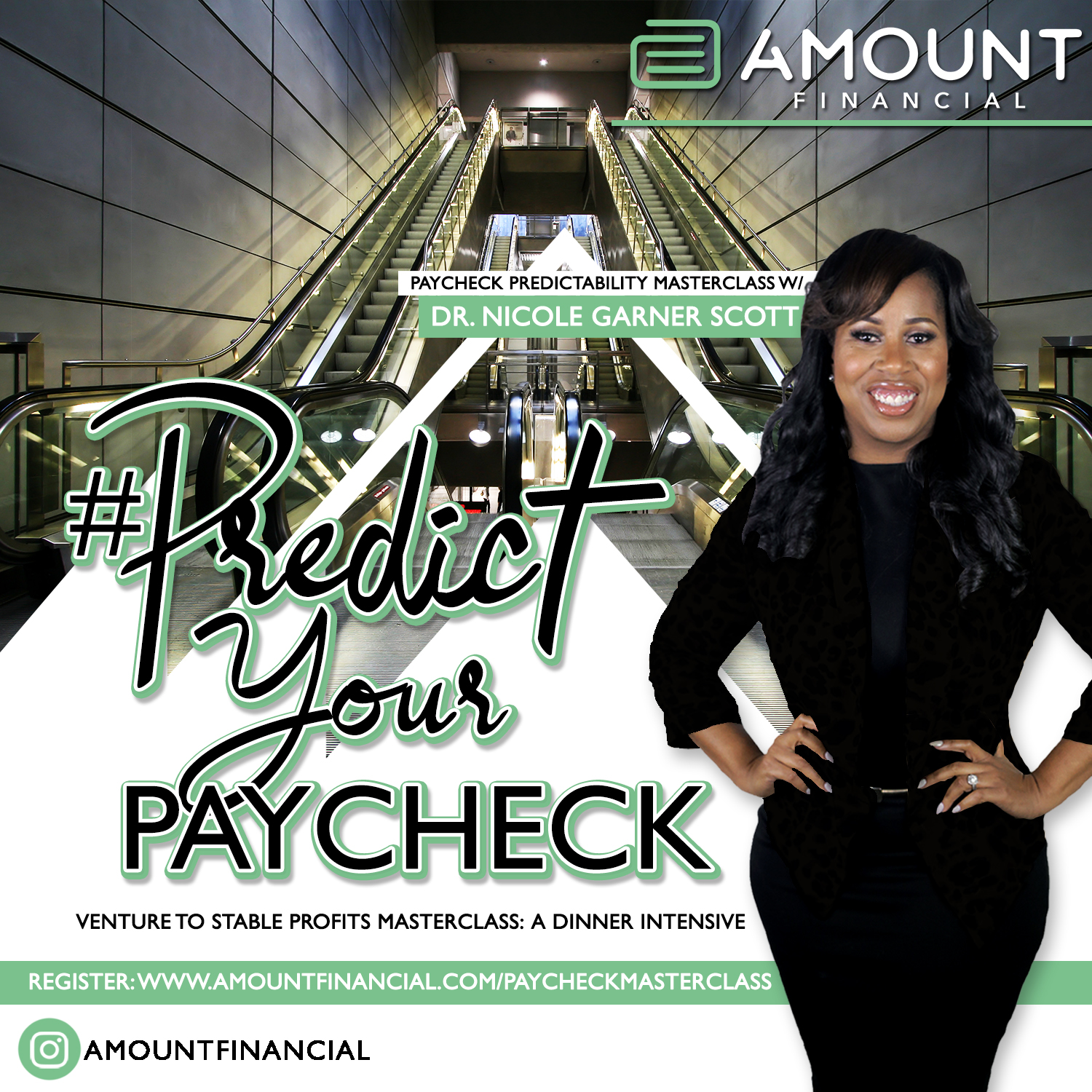 Amount Financial Presents Paycheck Predictability : a 4 Hour In -Person Workshop Intensive and Dinner
Date: Friday, February 22, 2019
Time: 6:00pm - 8:00pm
Location: Launchpad Memphis 175 Toyota Plaza Suite 350
Registration Cost: Early Bird $99 / Regular $150
Taught By: Dr. Nicole Garner Scott (Founder, Amount Financial)
IS THIS YOU?
You're building a flourishing company, but your finances, time, and stress levels are stretched with the unpredictability of your businesses cash flow. You swear if you had more hours in the day you would make more money from your business but there isn't any more time you can carve out. You are leaving money on the table with each day of the calendar year that passes by. It might be causing your to become agitated and even wakes you up at night. You are ready to take back your financial control.
Many people get through their professional lives by banking on a single, steady, reliable source of income -- a day job. They go into work, Monday through Friday, and know they'll get an identical paycheck every two weeks for years, or at least until they decide to leave. Entrepreneurs use to have to sacrifice this financial peace of mind in order to go after their dreams.
MY STORY
In the early years of being an entrepreneur, I finally got my company to the level of making good money, making the money I deserved. But if a client was late with a payment or I received a 60 or 90 net before I got paid, it would throw things off with my bank account. Enough unnecessary stress, can have you wanting to walk away from it all, when "on paper" you actually have a profitable business. This is when I started to implement my signature #PredictYourCheck System.
IT'S NOT ABOUT HAVING MORE TIME. IT'S ABOUT HAVING A TRUE MONEY SYSTEM IN PLACE. THE PAYCHECK PREDICTABILITY INTENSIVE WILL HELP YOU TO:
Prepare to hit your revenue goals, by completely mapping out your cash calendar and creating your year with intent
Assign each dollar in your business to a task. If you don't, your dollars will create their own assignments and disappear on you (and always right before something is due)
Plan your entire year, month-by-month with revenue generating activity
Analyze your business last year's performance, to figure out what is working and what is not working to make better decisions for the year ahead.
Monetize your "off season"
Complete your money map and revenue goal blueprint
And relying on the profitability and performance of your company to pay your salary
Paycheck Predictability is a private in-person intensive over a four course dinner in a beautiful intimate space. A highly engaged workshop for small business owners, entrepreneurs, and freelancers that need to stabilize and predict their income, optimize their revenue, and map out their income plans for the year.
#PREDICT YOUR CHECK IS A 4-HOUR IN-PERSON INTENSIVE
The Agenda for the evening is as follows:
Amount Financial Presents "Paycheck Predictability: Map Out Your 12 Month Money Plan and Visioncast For Your Business
6:00pm - Doors open for a mix and mingle
6:00pm - Part 1 - we delve into your specific business and financially plan out the entire calendar year
7:00pm -Food is served & Live "Break Bread" Q & A
7:30pm - Make it count session: make the most money you can off of existing opportunities within your business
8:00 - we close with a toast and a special parting gift from Amount Financial
This event can only accommodate 12 people in our intimate venue, to provide an intimate coaching experience.
GET SOCIAL:
T/IG: @AmountFinancial
Hashtag: #PredictYourCheck
For more information visit www.AmountFinancial.com